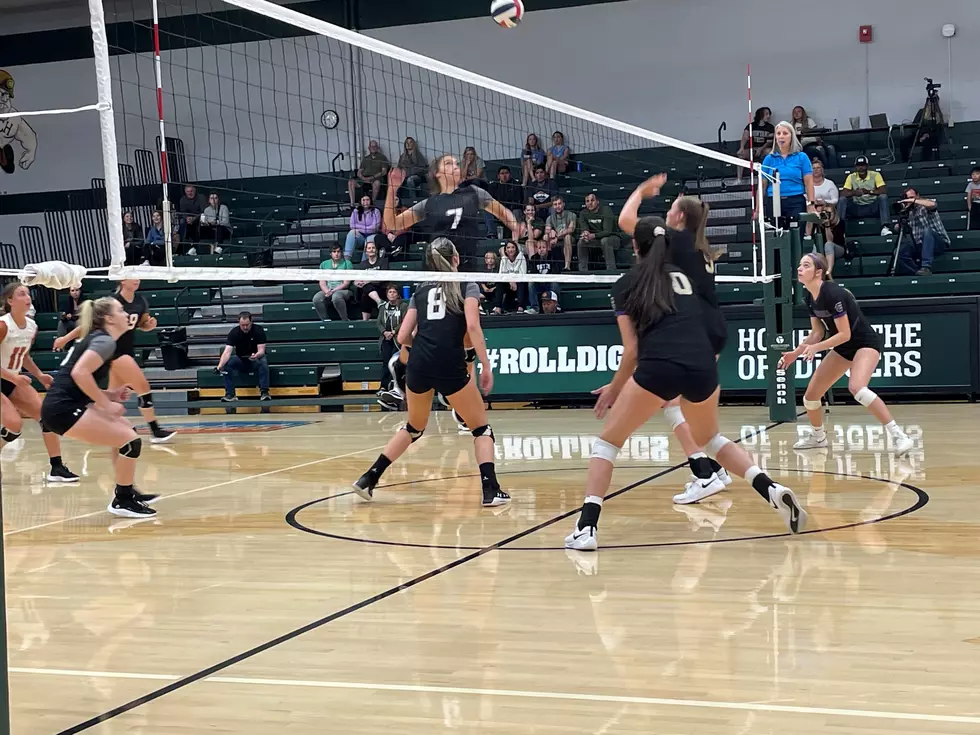 Jessop leads Oredigger Volleyball past Carroll
Oredigger Taylor Henley goes up for the kill against Carroll College Wednesday night in Butte.
It's been nearly a month since the Montana Tech Volleyball team has played in Butte and man, it's good to be home.  Since their last game in the season opening tournament that wrapped up in Butte on August 20, the 19th-ranked Orediggers finally made it back to Kelvin Sampson Court and treated the large home crowd to a 5-game victory over Carroll College, 22-25, 25-14, 25-21, 19-25, 15-11.  The win is the Orediggers 4th in a row.
Jessop, Henley spark rally
Things did not start smoothly for the Orediggers who fell behind 4-1 early in game 1. Taylor Henley, a 6'1 Junior middle blocker from Kalispell keyed an Oredigger rally that would eventually tie the match at 20 apiece but Oredigger defensive miscues would give the game to Carroll.  Game 2 was all Orediggers as Henley and freshman Kinnidi Willmore sent several shots past the Carroll defense and Tech rolled to a 25-14 win, knotting the match at a game each.  Game 3 is when Marueen "Mo" Jessop came to life for the Orediggers, finding her range in a 25-21 Tech victory but Carroll would even things up in the fourth game.  In the 15 point rubber match, Jessop simply came alive with the game tied 9-9.  Three consecutive blasts from the Corvallis product would extend the Oredigger lead to 12-9 and the ladies rolled to the win from that point.  "Maureen Jessop finished really strong," said 11th-year Head Coach Brian Solomon after the match.  "We got flat and she was able to correct the things in the middle of the match and that's hard to do."  Although Tech's impressive front line of Henley, Jessop and  McKenna Kaelber gained deserved praise, the Orediggers defensive players like Olivia Cady and Novi Sad, Serbia native Jelena Jablanov made big plays when needed. "I thought our little crew in the back row did a really good job," Solomon added.
Back in action Saturday
The volleyball team will be back in action Saturday as Homecoming week wraps up and they will host the Rocky Mountain College Battlin' Bears at 6pm.  Festivities will be well underway on campus as the Football team will be hosting MSU-Northern with a 1pm kickoff.  Tickets and information for both games are available from the Montana Tech Athletic Department.
Seven Reasons Not to Leave Montana
Whether you are moving away or going on vacation, Montana will stay with you.
More From 92.5 KAAR Country