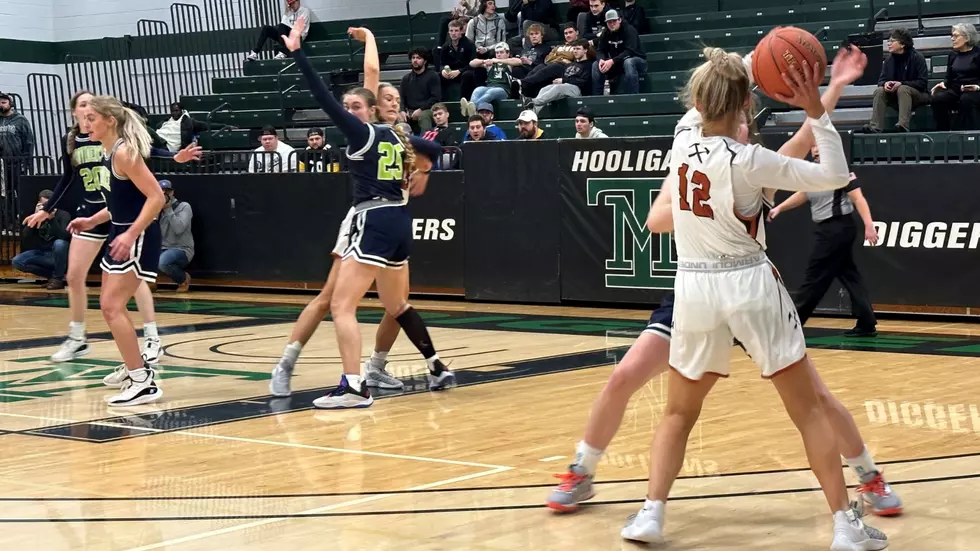 Providence Women ride early lead to win over Montana Tech
Montana Tech's Mikayla Kloker looks for Aubree Rademacher in the post Thursday night at Kelvin Sampson Court. Photo: Tommy O/Townsquare Media
The University of Providence Women jumped out to an early 12-0 lead which was too much for Montana Tech to overcome and the Argos went on to a 77-58 win over the Orediggers Thursday night at Kelvin Sampson Court.  Junior guard Maddy Dixon led the early charge and had 12 for Providence in the first quarter. She would go on to score 20 points, joining teammate Reed Hazard in the 20-plus point club.  Hazard would lead all scorers with 23 and would add 4 rebounds for Providence.  The Argos would lead 24-11 at the end of the first quarter and 40-29 at the half.
The Orediggers, though, would show resilience and would put 4 players in double-digits in the scoring column.  Freshman Aubree Rademacher would toss in 13 for Montana Tech, junior forward Tavia Rooney would add 11, senior forward Dani Urick would add 10 and sophomore guard and Butte High product Ally Cleverly came off the bench to score 11.  Coach Jeff Graham also got quality bench minutes from freshman forward Liv Wangerin who provided 6 points and 6 rebounds.  Of her 6 rebounds, 4 were from the offensive glass. The Oredigger bench outscored Providence 22-7 in the contest.
With the win, Providence improves to 13-9 overall with a 3-6 mark in the Frontier Conference with 2 of those wins coming at the expense of Montana Tech.  The Argos previously beat the Orediggers 69-61 back on January 7.  The Orediggers drop to 6-13 overall and 2-7 in Frontier play.  Saturday, the Orediggers head north to Havre for a 2pm meeting with the MSU-Northern Skylights.  In their previous meeting, January 14 in Butte, the Orediggers won by a score of 64-57.
The 10 Most Shocking Best Picture Winners In Oscar History
25 Chris Stapleton Songs Sure To Bring You To Your Knees
Chris Stapleton has only released four albums, but paring down a list of his
10 best songs
is very difficult. These hits and album cuts are sure to make you feel some kind of way.
How Come These 10 Rock Artists Have Never Played the Super Bowl?
There was a time when rock acts dominated the Super Bowl halftime show. What happened?