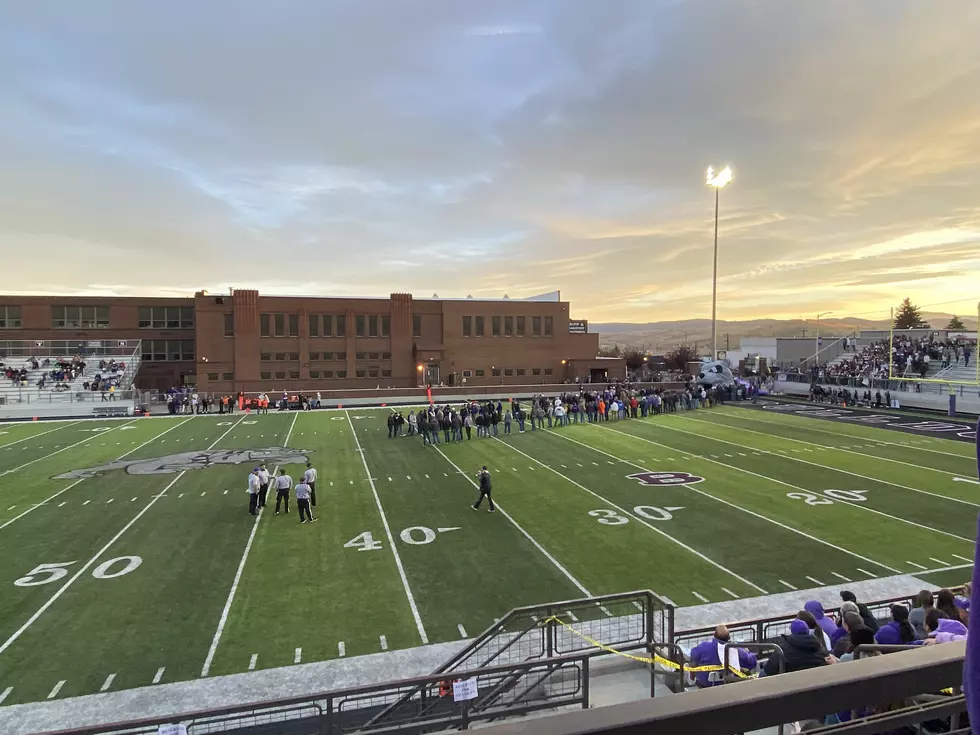 Southwest Montana football wrap-up
panisko-Townsquaremedia
A busy football weekend is behind us and there were some significant ripples felt across all levels of play.
Butte High welcomed Missoula Big Sky to Naranche for Homecoming and Silver B night Friday night. It was the Eagles who got things going early as Joey Sanberg was able to get free on a 58 yard TD run on the Eagles' second possession, and that would be the Eagle's only lead as the Bulldogs would score on their next five straight possessions. Jace Stenson throws for 299 yards and five touchdowns on 15 of 24 passing. Cameron Gurnsey led the talented receiver group with six catches for 135 yards and two touchdowns.
Western AA scores.
Butte High rolls over Big Sky 54-7
Capital over Glacier 35-27
Hellgate over Flathead 29-28
Helena over Sentinel 35-7
Western AA standings
Capital                3-0         5-0
Helena                3-0         4-1
Sentinel              2-1         4-1
Butte                   2-1         3-2
Glacier                1-2         3-2
Hellgate              1-2         2-3
Flathead             0-3         1-4
Big Sky                0-3         1-4
The Maroons of Butte Central were on the road Saturday to face the Blue Devils of Corvallis, both teams needing a win to gain ground in the very tough Southwestern A. The Blue Devils were able to hold home and get a big 20-16 win over the Maroons.
Southwestern A Scores:
Butte Central falls at Corvallis 20-16
Hamilton over Stevensville  44-13
Dillon takes down Frenchtown 21-10
Whitefish shuts out East Helena  35-0
Southwestern A Standings
Hamilton                           5-0
Dillon                                 3-1
Frenchtown                     2-3
Corvalis                             1-3
Butte Central                   1-4
East Helena                      1-4
Stevensville                      1-4
Montana Tech goes on the road to take down UM Western in Dillon 33-24. It's the Diggs first win in Dillon since 2012. Montana Tech was led by Blake Thelen at Quarterback getting his first start as an Oredigger. Thelen ended the day with 2 touchdown passes on 15-28 passing and 200 yards total. Blake Counts had a bid day as well, rushing for 120 yards and 2 scores, and Trevor Hoffman ended the day with 6 catches good for 99 yards and 1 touchdown.
Tech takes down Western 33-24
Carroll beats Southern for their Homecoming game. 26-14
College of Idaho shuts out 41-0
Rocky shuts out Northern 56-0
COI                                    3-0
Montana Tech                   3-1
Carroll                               3-1
Rocky                                3-1
Western                           2-2
Southern Oregon            1-3
Eastern Oregon               0-3
Northern                           0-4
MSU wins a shootout at EWU  48-45. Tommy Mellott was injured late in the first quarter, as he appeared to be knocked out. Mellott was able to get up, assisted, and make his way to the sideline after spending several minutes on the turf.  Sean Chambers, a transfer from Wyoming, took over at QB and the Cats got a big win on the Inferno.
The Griz score 22 points in the last 5 minutes of the first half to turn a close game into a route of Portland State 53-16.  Robbie Hauck returns a FG attempt 99 yards for a TD to end the 2nd Quarter assault.
More From 92.5 KAAR Country